S.T.A.G.E. ELFS CLASSES
To All Volunteers, Staff, and Patrons of S.T.A.G.E., Inc:
It is with heavy hearts that we are announcing the postponement or cancellation of productions and special events, effective July 23 through December 31, 2020.  This includes the following:
* Auditions and Production of "The Miracle Worker"
* Fall 2020 ELFS youth classes
* Annual Christmas Open House
Our hope was to safely open for limited capacity this fall, but we have made the difficult choice of delaying the next S.T.A.G.E., Inc. event in order to protect the safety and health of everyone involved.
At this point, we are tentatively scheduled to resume production with auditions for "Grumpy Old Men" in January 2021.  ELFS classes are also planned to resume in the spring of 2021, subject to ongoing assessment of CDC guidelines regarding COVID-19.  Plans are also underway to host virtual entertainment events via Facebook: please watch for more details on how to attend!
Additionally, Season Ticket sales will be suspended for the remainder of the 2020-2021 season.  If you are an existing Season Ticket holder, then please contact the Box Office at 830-438-2339, or email us at stage@gvtc.com.
We want to extend our gratitude for all the support and encouragement that our community has shown during this uncertain time.  May you and your family be safe and well, until we meet again.
S.T.A.G.E., Inc. Board of Directors and Corporate Management
Download Registration Forms
OFFICE HOURS OF OPERATION  Monday through Friday 9AM to 4PM
Extended office hours during show
Thursday through Saturday doors open for Dinner at 6:30PM Performance starts promptly at 8PM
Sunday Matinee doors open for Lunch at 1PM Performance starts promptly at 2:30PM
Note:  July SUNDAY MATINEE, DESSERT ONLY,
doors open at 3 PM, Performance at 4 PM
FOR RESERVATIONS click on TICKETS OR Call 830.438.2339
VIEW SEATING CHART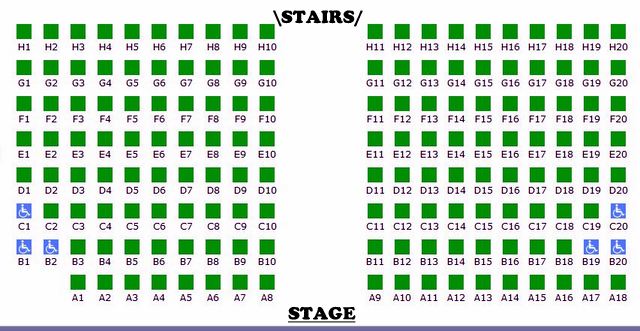 NOTE  When making your seat choice remember, only rows A, B, and C have side access.
All other rows are accessed from center aisle only. Seats B1 B2 B19 and B20 are removable for wheelchair access.
TICKET PRICES $20 for adults $17 for military & seniors (age 62+) $12 for students