S.T.A.G.E. ELFS CLASSES
S.T.AG.E., Inc. continues to closely monitor the current situation with COVID-19, and we are still evaluating the best time and place for our youth classes to resume safely.  In the meantime, we want to assure all parents that previously-enrolled E.L.F.S. students returning for Fall 2020 will not be charged.  For any families who are unable to return, we ask you to consider these options:
S.T.A.G.E., Inc. is a 501C3 non-profit organization that relies on donations as well as patronage to continue its mission. Please consider making your purchase amount a donation to S.T.A.G.E., Inc. – this will help us maintain operations and maintenance.
Please know that we understand any financial difficulties that may prevent you from choosing one of these prior options. If you are unable to donate or transfer your purchase, then we ask you to please contact us via email (stage@gvtc.com).  We will help you arrange for a refund to be mailed.
Download Registration Forms
OFFICE HOURS OF OPERATION  Monday through Friday 9AM to 4PM
Extended office hours during show
Thursday through Saturday doors open for Dinner at 6:30PM Performance starts promptly at 8PM
Sunday Matinee doors open for Lunch at 1PM Performance starts promptly at 2:30PM
Note:  July SUNDAY MATINEE, DESSERT ONLY,
doors open at 3 PM, Performance at 4 PM
FOR RESERVATIONS click on TICKETS OR Call 830.438.2339
VIEW SEATING CHART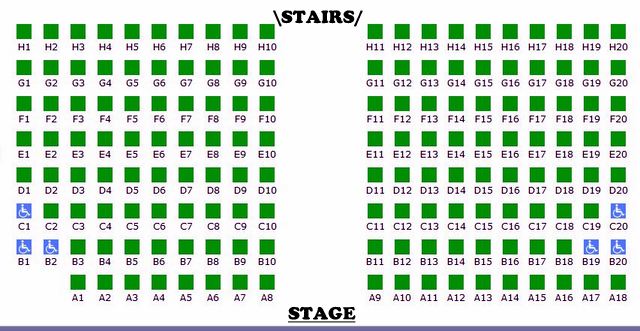 NOTE  When making your seat choice remember, only rows A, B, and C have side access.
All other rows are accessed from center aisle only. Seats B1 B2 B19 and B20 are removable for wheelchair access.
TICKET PRICES $20 for adults $17 for military & seniors (age 62+) $12 for students