SUBSCRIBE TO OUR E-MAIL LIST
S.T.A.G.E will soon have our season brochures, audition and classes information and newsletters available to you via email!  Please sign up below to make sure you are included!
Note: we respect your privacy and will not share your email address with anyone.
OFFICE HOURS OF OPERATION 
Monday through Friday 9AM to 4PM
Extended office hours during show.
Thursday through Saturday doors at 7:15 p.m.  Performance starts promptly at 8:00 p.m.
Sunday Matinee doors open at 1:45 p.m. Performance starts promptly at 2:30 p.m.

FOR RESERVATIONS click on TICKETS OR Call 830.438.2339
VIEW SEATING CHART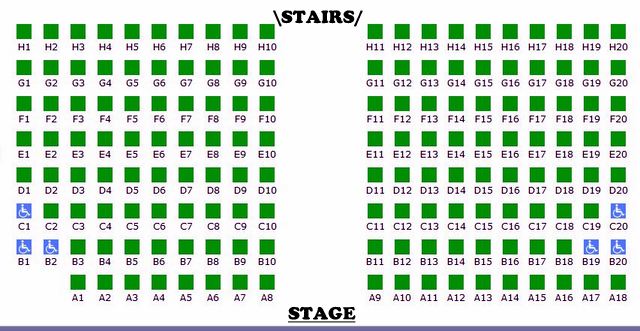 NOTE  When making your seat choice remember, only rows A, B, and C have side access.
All other rows are accessed from center aisle only. Seats B1 B2 B19 and B20 are removable for wheelchair access.
TICKET PRICES $20 for adults $17 for military & seniors (age 62+) $12 for students