The S.T.A.G.E., Inc. Board of Directors strives to meet the needs of the theatre, including staff, board members, artistic directors, actors and volunteers, as well as the community it serves.
Al Poerner, President
Tom Balmos, Vice President
Natalie Bared, Secretary
Sharron Petri, Treasurer
Lou Garza, Corporate Manager
Jeff Johnson, Technical Director
Joyce Harllee
Sharon Knibbe
Jane Wood
Judge Larry Shallcross
Lee Garrett
Barbara Wehe
Mike Simpson
Sam Shelton
Jenny Barker
Lisa Garza
OFFICE HOURS OF OPERATION  Monday through Friday 9AM to 4PM
Extended office hours during show
Thursday through Saturday doors open for Dinner at 6:30PM Performance starts promptly at 8PM
Sunday Matinee doors open for Lunch at 1PM Performance starts promptly at 2:30PM
Note:  July SUNDAY MATINEE, DESSERT ONLY,
doors open at 3 PM, Performance at 4 PM
FOR RESERVATIONS click on TICKETS OR Call 830.438.2339
VIEW SEATING CHART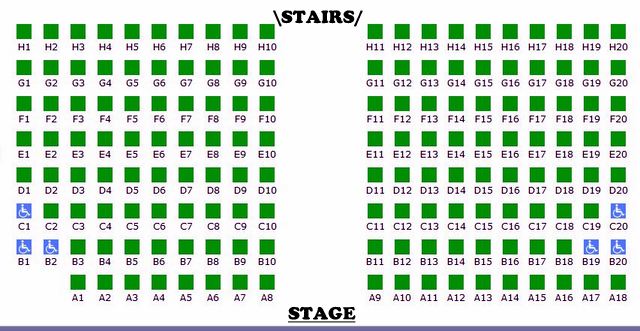 NOTE  When making your seat choice remember, only rows A, B, and C have side access.
All other rows are accessed from center aisle only. Seats B1 B2 B19 and B20 are removable for wheelchair access.
TICKET PRICES $20 for adults $17 for military & seniors (age 62+) $12 for students