MESSAGE FROM THE PRESIDENT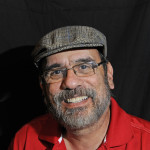 To the Patrons of S.T.A.G.E., INC.
  I cannot believe we are starting our 39th season but as the saying goes, "time goes by fast when you are having fun"!!! And we have a lot of fun at S.T.A.G.E. Theater. We are starting this season with the hilarious "The Savanah Sipping Society" directed by Julie Cammack. After that we will present "Geezers" which is delightful and tells the story of how knowledge can be learned from wisdom, and yours truly will direct it.   Our third production of season 39 is the beautiful and touching story, "Mom's Gift" directed by Kathleen Lovejoy.  Finally S.T.A.G.E. will close out the season with "Deer Camp" about four excellent deer hunters (sort of) and I will once again be directing. The season is full of emotional and funny plays, and as usual, if you want to be a part of our season, the door is open. Audition, work the shows by greeting, ushering, helping in our yummy kitchen or ask about how you can participate in a show backstage.
I hope that you enjoy our 39th season. Have A Great Season 39!!!!!
Lou Garza,
President-S.T.A.G.E Board of Directors
OFFICE HOURS OF OPERATION  Monday through Friday 9AM to 4PM
Extended office hours during show
Thursday through Saturday Dinner 6:30PM Performance 8PM
Sunday Matinee Lunch 1PM Performance 2:30PM
Note:  July SUNDAY MATINEE, DESSERT ONLY,
doors open at 3 PM, Performance at 4 PM
TICKET PRICES $18 for adults $15 for military & seniors (age 62+) $10 for students