MESSAGE FROM THE PRESIDENT
To the Patrons of S.T.A.G.E., INC.
 What a year…and that's speaking of last year and for this upcoming one. We ended last season by setting a new attendance record with our last show, Hank Williams: Lost Highway. Thank all 1700 of you who came to see Mike Vybiral do an outstanding rendition of the great Hank Williams.   But that was last season, this season we have another four outstanding shows for your enjoyment.  We open with the classic, and timely, Guess Who's Coming to Dinner directed by Lou Garza.  We follow that show with the comedy (maybe too close to home) Four Old Broads directed by Tom Balmos.  Our third show, directed by Barry Goettl is Waiting for MacArthur, a touching war story told from the perspective of women back home.  We'll end our 41st season with another classic, this one by the great Neil Simon, The Goodbye Girl directed by Petra Pearce.  Besides these four great shows, we also invite you to come out and support our ELFS (youth) program. Our new youth director, Natalie Bared and her daughter Kayle will be directing our "developing stars of tomorrow" in several performances during the year.   Our Encore Senior Troupe, directed by Tom Balmos, continues to entertain audiences both at S.T.A.G.E. and external venues  All in all, another great season planned for you our valued and cherished patrons of S.T.A.G.E.
Al Poerner,
President-S.T.A.G.E. Board of Directors
OFFICE HOURS OF OPERATION  Monday through Friday 9AM to 4PM
Extended office hours during show
Thursday through Saturday doors open for Dinner at 6:30PM Performance starts promptly at 8PM
Sunday Matinee doors open for Lunch at 1PM Performance starts promptly at 2:30PM
Note:  July SUNDAY MATINEE, DESSERT ONLY,
doors open at 3 PM, Performance at 4 PM
FOR RESERVATIONS click on TICKETS OR Call 830.438.2339
VIEW SEATING CHART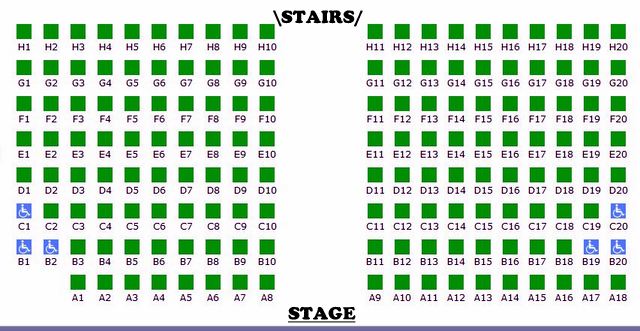 NOTE  When making your seat choice remember, only rows A, B, and C have side access.
All other rows are accessed from center aisle only. Seats B1 B2 B19 and B20 are removable for wheelchair access.
TICKET PRICES $20 for adults $17 for military & seniors (age 62+) $12 for students