S.T.A.G.E., Inc. 2018-2019 PATRON MEMBERSHIPS  Thank you for your support!!

BENEFACTORS      
Mona Klein, Bulverde
Jahnsen Family Foundation, Bulverde
Terry Lynn Poerner San Antonio Charitable Foundation Fund, San Antonio
The GVTC Foundation, New Braunfels
Gary & Caron West, San Antonio
ARCH ANGELS

Chuck & Sharon Knibbe, Spring Branch
Earl & Zada Jahnsen, Bulverde
Lisa Garza, San Antonio
Al & Diana Poerner, San Antonio     
GUARDIAN ANGELS
Al & Diana Poerner, San Antonio
Earl & Zada Jahnsen, Bulverde
Bill & Stephanie Clark, Bulverde
Arlon & Carol Bruemmer, Spring Branch
Karen Hogg, Boerne
Charles & Carolyn Ruble, San Antonio
Edward &Valerie Faleski, Garden Ridge
Jesse Juhl, San Antonio
Dixon Family, Spring Branch
Drs. Frank & Barbara Pino, San Antonio
Patrick & Mary Watson, San Antonio
ANGELS
Connie Bremer, Bulverde
Ellen & Gary Alkire, San Antonio
Dyan Montesclaros, San Antonio
Bernice Moore, San Antonio
NJ Elmendorf, San Antonio
Marla Todd, San Antonio
Jane Wood, Bulverde
Hope Koltz, San Antonio
Peggy Shearer, San Antonio
Diane Sutton, San Antonio
Nancy Adkins, Boerne
Janie & Clyde Tew, Bulverde
Rebecca Maldonado, San Antonio
PATRONS
Brenda Albrecht, San Antonio
Charles & Margaret Goodhue, San Antonio
Paul Mengel, Live Oak
Sam & Marilyn Parnes, San Antonio
David & Rosemary Crouch, San Antonio
John McClure, Schertz
Joe & Clista Vocks, Spring Branch
Chuck & Heidi Burgess, Spring Branch
Robert & Beverly Gwyn, Bulverd
Charles & Terry Franklin, Bulverde
Weege Henderson, Hollywood Park
Jim McDonald, San Antonio
Milber Berry, Spring Branch
Pearl Eng, San Antonio
Susan Shaprio, Spring Branch
Jody Chavis, Spring Branch
Mark Bissonnette, San Antonio
Demi Xidas, San Antonio
Brian E Beaudine, San Antonio
Bill & Diane Lyles, San Antonio
Stephen Dingman & Joan Thompson, San Antonio
Dick & Cindy Haines, San Antonio
Donna Lagoudis, Bulverde
Martha Gaston, Spring Branch
Bernice Moore, San Antonio
Marlene Hudnall, San Antonio

OFFICE HOURS OF OPERATION 
Monday through Friday 9AM to 4PM
Extended office hours during show.
Thursday through Saturday doors at 7:15 p.m.  Performance starts promptly at 8:00 p.m.
Sunday Matinee doors open at 1:45 p.m. Performance starts promptly at 2:30 p.m.

FOR RESERVATIONS click on TICKETS OR Call 830.438.2339
VIEW SEATING CHART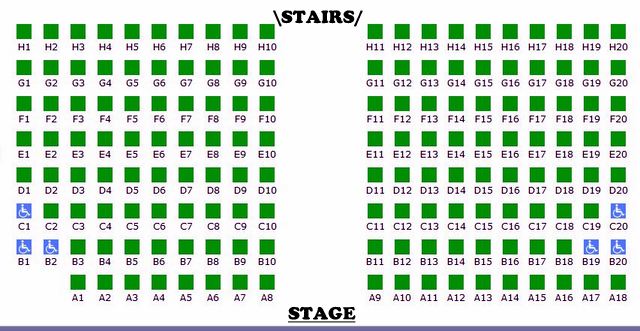 NOTE  When making your seat choice remember, only rows A, B, and C have side access.
All other rows are accessed from center aisle only. Seats B1 B2 B19 and B20 are removable for wheelchair access.
TICKET PRICES $20 for adults $17 for military & seniors (age 62+) $12 for students