MESSAGE FROM THE PRESIDENT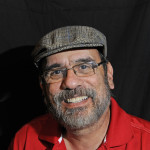 To the Patrons of S.T.A.G.E., INC.
   We just ended our 37th Season and enjoyed presenting it to you. Guess what? Our 38th Season will open October 6th with the funny comedy "Night Comes Early".  The season will also include a variety of great entertainment such as the western "The Man Who Shot Liberty Valance", a musical comedy "The 1940's Radio Hour " and the suspense thriller "Wait Until Dark".
Please come and enjoy our shows. Tell your friends and neighbors about us.  Word of mouth is our best advertising.
We are always looking for new faces on our stage so if you think you might want to audition for one of  our shows, well come on out! If you want to get involved as a volunteer backstage, up in the light and sound booth, or in the house during our shows, we welcome you to do that as well. 
It's going to be a great season and we want you to be a part of it either by being involved or by doing the most important thing for us here at STAGE, attending the shows.
Lou Garza,
President-S.T.A.G.E Board of Directors
OFFICE HOURS OF OPERATION  Monday through Friday 9AM to 4PM
Extended office hours during show
Thursday through Saturday Dinner 6:30PM Performance 8PM
Sunday Matinee Lunch 1PM Performance 2:30PM
Note:  July SUNDAY MATINEE, DESSERT ONLY,
doors open at 3 PM, Performance at 4 PM
TICKET PRICES $18 for adults $15 for military & seniors (age 62+) $10 for students