THE GIN GAME
By D L. Coburn
Starring Sharon Knibbe and Tom Balmos
In this winner of the 1978 Pulitzer Prize for Drama, Weller Martin is playing solitaire on the porch of a seedy nursing home. Enter Fonsia Dorsey, a prim, self-righteous lady. They discover they both dislike the home and enjoy gin rummy, so they begin to play and to reveal intimate details of their lives. Weller longs for a victory to counter a lifetime of defeats. Does it happen?
SHOW DATES: Feb 11, 12, 13, 18, 19, 20, 21, 25, 26, 27, 28
OFFICE HOURS OF OPERATION  Monday through Friday 9AM to 4PM
Extended office hours during show
Thursday through Saturday doors open for Dinner at 6:30PM Performance starts promptly at 8PM
Sunday Matinee doors open for Lunch at 1PM Performance starts promptly at 2:30PM
Note:  July SUNDAY MATINEE, DESSERT ONLY,
doors open at 3 PM, Performance at 4 PM
FOR RESERVATIONS click on TICKETS OR Call 830.438.2339
VIEW SEATING CHART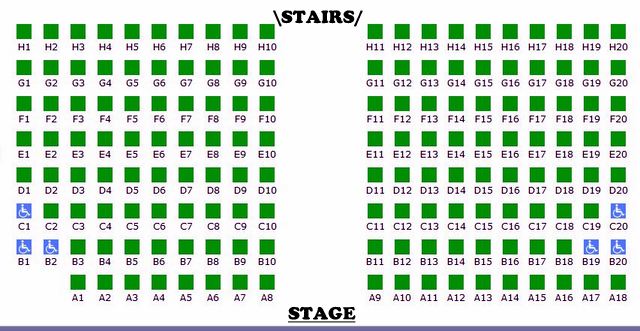 NOTE  When making your seat choice remember, only rows A, B, and C have side access.
All other rows are accessed from center aisle only. Seats B1 B2 B19 and B20 are removable for wheelchair access.
TICKET PRICES $20 for adults $17 for military & seniors (age 62+) $12 for students