THE FANTASTICKS
A musical by Jones & Schmidt
The Fantasticks is a funny and romantic musical about a boy, a girl, and their two fathers who try to keep them apart. The narrator, El Gallo, asks the audience to use their imagination and follow him into a world of moonlight and magic. 
Director: Lisa Garza    Musical Director: Petra Pearce      
2021 Show Dates:  July 15, 16, 17, 22, 23, 24, 25, 29, 30, 31, Aug 1
Cast — El Gallo: Ted Gibbs, Luisa: Lauren Campion, Matt: Jacob Sengele, Hucklebee: Ralph Gill,  Bellomy: Lynn Utley,
Henry: Barry Goettl, Mortimer: David Clingnan, The Mute: Jenna Shea, Piano Accompanist: Hunter Garrett.
OFFICE HOURS OF OPERATION 
Monday through Friday 9AM to 4PM
Extended office hours during show.
Thursday through Saturday doors at 7:15 p.m.  Performance starts promptly at 8:00 p.m.
Sunday Matinee doors open at 1:45 p.m. Performance starts promptly at 2:30 p.m.

FOR RESERVATIONS click on TICKETS OR Call 830.438.2339
VIEW SEATING CHART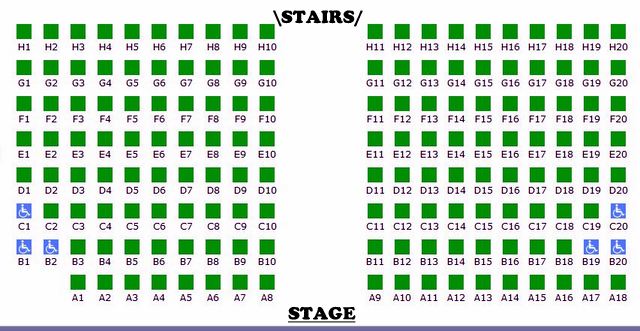 NOTE  When making your seat choice remember, only rows A, B, and C have side access.
All other rows are accessed from center aisle only. Seats B1 B2 B19 and B20 are removable for wheelchair access.
TICKET PRICES $20 for adults $17 for military & seniors (age 62+) $12 for students