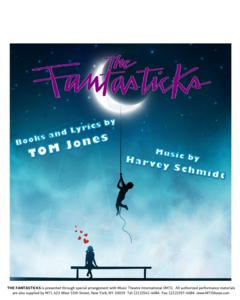 THE FANTASTICKS
A musical by Jones & Schmidt
2021 Show Dates: July 15, 16, 17, 22, 23, 24, 25, 29, 30, 31, Aug 1
DIRECTOR………Lisa Garza    MUSICAL DIRECTOR…………Petra Pearce
The Fantasticks is a funny and romantic musical about a boy, a girl, and their two fathers who try to keep them apart. The narrator, El Gallo, asks the audience to use their imagination and follow him into a world of moonlight and magic.
Director Lisa Garza will hold open auditions for the S.T.A.G.E., Inc. 2020-2021 season production of THE FANTASTICKS A musical by Jones & Schmidt. *SCRIPTS AVAILABLE FOR CHECKOUT. CALL 830-438-2339 TO ARRANGE A SCRIPT CHECKOUT.*
We are looking for a Piano Accompanist. This is a paid position.
Auditions will be held at 2 p.m. on Sunday, May 30, 2021 at Krause House Theatre, 1300 Bulverde Road in Bulverde, TX.
Performers are needed for the following roles:
CHARACTERS
The Narrator (El Gallo)
The Girl (Luisa)
The Boy (Matt)
The Boy's Father (Hucklebee)
The Girl's Father (Bellomy)
The Old Actor (Henry)
The Man Who Dies (Mortimer)
The Mute
Musical excerpts from The Fantasticks are strongly encouraged but not required.
Contact Persons: Lou Garza/Charlotte Miniard (830) 438-2339
Interested In Auditioning?
Please complete the pre-audition form prior to your visit.
Call Lou Garza or Charlotte Miniard
(830) 438-2339
STAGE@GVTC.COM
Spotlight Theatre & Arts Group Etc., Inc.
Krause House Theatre
1300 Bulverde Road
Bulverde, Texas
If you would like to receive email information on future auditions and other information, please subscribe to our email list.
OFFICE HOURS OF OPERATION 
Monday through Friday 9AM to 4PM
Extended office hours during show.
Thursday through Saturday doors at 7:15 p.m.  Performance starts promptly at 8:00 p.m.
Sunday Matinee doors open at 1:45 p.m. Performance starts promptly at 2:30 p.m.

FOR RESERVATIONS click on TICKETS OR Call 830.438.2339
VIEW SEATING CHART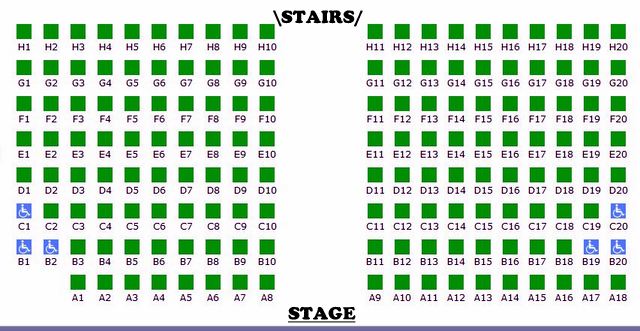 NOTE  When making your seat choice remember, only rows A, B, and C have side access.
All other rows are accessed from center aisle only. Seats B1 B2 B19 and B20 are removable for wheelchair access.
TICKET PRICES $20 for adults $17 for military & seniors (age 62+) $12 for students