Celebrating our 43rd SEASON!!
THE MIRACLE WORKER drama by WILLIAM GIBSON 
2021 Show Dates Oct 7, 8, 9, 14, 15, 16, 17, 21, 22, 23, 24
This classic tells the story of Annie Sullivan and her student, blind and mute Helen Keller. The Miracle Worker dramatizes the volatile relationship between the lonely teacher and her charge. Trapped in a secret, silent world, unable to communicate, Helen is violent, spoiled, almost sub-human and treated by her family as such. Only Annie realizes that there is a mind and spirit waiting to be rescued from the dark, tortured silence. With scenes of intense physical and emotional dynamism, Annie's success with Helen finally comes with the utterance of a single, glorious word: "water."   
GRUMPY OLD MEN THE MUSICAL by NEIL BERG
2022 Show Dates Feb 10, 11, 12, 17, 18, 19, 20, 24, 25, 26, 27
The story of two aging men, Max and John, neighbors who have been feuding for most of their lives. Invigorated by their shared affection for their new neighbor across the street, the beautiful, eccentric, and charming Ariel, they face-off as romantic rivals until their hilarious shenanigans finally bring about a resolution to their long-standing differences. Based on the 1993 film, which starred Jack Lemmon, Walter Matthau, and Ann-Margret, this stage adaptation captures the lovably crotchety characters through twinkling humor, great songs, and the affectionate depiction of a small town that feels like home to everyone.

WAITING FOR MACARTHUR
A Drama by P. PAULLETTE MACDOUGAL
2022 Show Dates May 5, 6, 7, 12, 13, 14, 15, 19, 20, 21, 22
Letters from five continents intersect on this powerful story that explores the deeper meanings of patriotism, heroism, love of liberty and courage under fire.  It's the 1940's and four women are changed and marked a by world at war.  A spiritually uplifting, emotionally touching war story, all the more intense because it is told by women.

Driving Miss Daisy
A Drama by Alfred Uhry
2022 Show Dates July 14, 15, 16, 21, 22, 23, 24, 28, 29, 30, 31
Winner of the 1988 Pulitzer Prize and the Outer Critics Circle Award for Best Off-Broadway Play. A warm-hearted, humorous, and affecting study of the unlikely relationship between an aging, crotchety white Southern lady, and a proud, soft-spoken black man. A long-run Off-Broadway success and an Academy Award-winning film.
OFFICE HOURS OF OPERATION 
Monday through Friday 9AM to 4PM
Extended office hours during show.
Thursday through Saturday doors at 7:15 p.m.  Performance starts promptly at 8:00 p.m.
Sunday Matinee doors open at 1:45 p.m. Performance starts promptly at 2:30 p.m.

FOR RESERVATIONS click on TICKETS OR Call 830.438.2339
VIEW SEATING CHART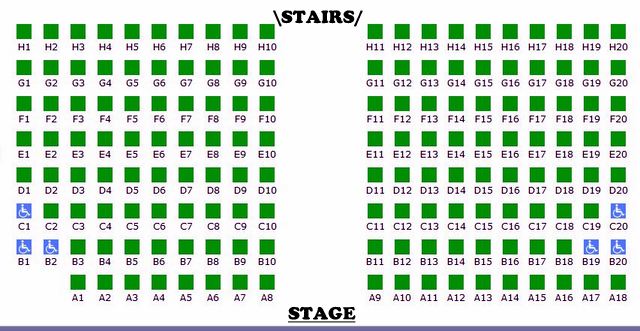 NOTE  When making your seat choice remember, only rows A, B, and C have side access.
All other rows are accessed from center aisle only. Seats B1 B2 B19 and B20 are removable for wheelchair access.
TICKET PRICES $20 for adults $17 for military & seniors (age 62+) $12 for students