Celebrating our 42nd SEASON!!!!
2020-2021 Season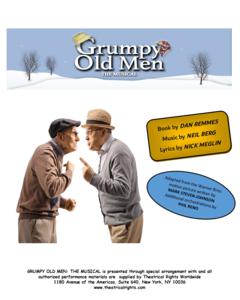 The story of two aging men, Max and John, neighbors who have been feuding for most of their lives. Invigorated by their shared affection for their new neighbor across the street, the beautiful, eccentric, and charming Ariel, they face-off as romantic rivals until their hilarious shenanigans finally bring about a resolution to their long-standing differences. Based on the 1993 film, which starred Jack Lemmon, Walter Matthau, and Ann-Margret, this stage adaptation captures the lovably crotchety characters through twinkling humor, great songs, and the affectionate depiction of a small town that feels like home to everyone.
Director: Petra Pearce    2021 Show Dates:  Feb 11, 12, 13, 18, 19, 20, 21, 25, 26, 27, 28
Auditions: Sunday, Jan 3, 2021 at 2 p.m. 1 Male 6 Female      Benefit: Friends of the Village of Bulverde


Instead of relishing life after her heart transplant, Joy enters a downward spiral, unsure whether she truly deserves a second chance. Meanwhile, Alice and Hank mourn the loss of their son, Jack, whose heart was used to save Joy. At a friend's urging, Joy tracks down Jack's family to find closure. But are Alice, Hank, and their daughter Sammy ready to accept Jack's death? Based on a true story
Director: Barry Goettl    2021 Show Dates:  May 6, 7, 8, 13, 14, 15, 16, 20, 21, 22, 23
Audition Invitation:  Sunday, Mar 14, 2021 at 2 p.m. 4 Female
Benefit: Friends of the American Legion Riders

The Fantasticks is a funny and romantic musical about a boy, a girl, and their two fathers who try to keep them apart. The narrator, El Gallo, asks the audience to use their imagination and follow him into a world of moonlight and magic.
Director: Lisa Garza    2021 Show Dates:  July 16, 17, 18, 23, 24, 25, 26, 30, 31, Aug 1, 2
Auditions: Sunday, May 30, 2021 at 2 p.m. 9 Female 8 Male   Benefit:  PROVISIONS
OFFICE HOURS OF OPERATION  Monday through Friday 9AM to 4PM
Extended office hours during show
Thursday through Saturday doors open for Dinner at 6:30PM Performance starts promptly at 8PM
Sunday Matinee doors open for Lunch at 1PM Performance starts promptly at 2:30PM
Note:  July SUNDAY MATINEE, DESSERT ONLY,
doors open at 3 PM, Performance at 4 PM
FOR RESERVATIONS click on TICKETS OR Call 830.438.2339
VIEW SEATING CHART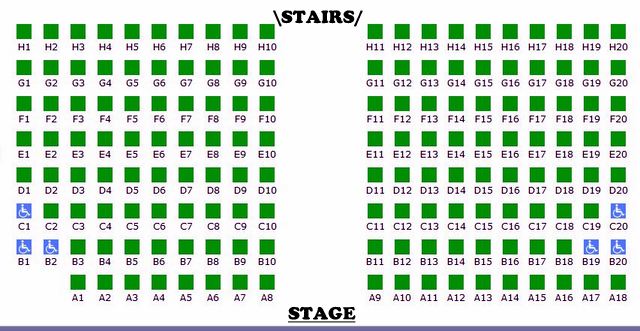 NOTE  When making your seat choice remember, only rows A, B, and C have side access.
All other rows are accessed from center aisle only. Seats B1 B2 B19 and B20 are removable for wheelchair access.
TICKET PRICES $20 for adults $17 for military & seniors (age 62+) $12 for students