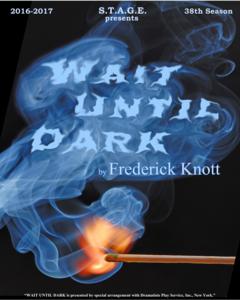 WAIT UNTIL DARK  by Frederick Knott
Scheduled show dates are July 13, 14, 15, 20, 21, 22, 23, 27, 28, 29, 30            
Auditions Sunday May 21, 2017 4:00 pm
DIRECTOR………….…Lou Garza
A psychological thriller about a recently blinded woman terrorized by a trio of thugs searching for a heroin stuffed doll they believe is in her apartment.
Director Lou Garza will hold open auditions for the S.T.A.G.E., Inc. 2016-2017 season production of WAIT UNTIL DARK  by
Frederick Knott.  Auditions will be held at 4 p.m. on Sunday, May 21, 2017 at Krause House Theatre, 1300 Bulverde Road in Bulverde.
Performers are needed for the following roles:
CHARACTERS
MIKE TALMAN – Ex-convict.
SGT. CARLINO – Ex-convict.
HARRY ROAT, JR. – A sinister con man.
SUSY HENDRIX – Sam's blind wife.
SAM HENDRIX – Photographer, Susy's husband.
GLORIA – Young girl, Susy & Sam's neighbor.
POLICEMAN
Contact Persons: Mona Klein/Charlotte Miniard (830) 438-2339
---
Interested In Auditioning?
Call Mona Klein or Charlotte Miniard
(830) 438-2339
Spotlight Theatre & Arts Group Etc., Inc.
Krause House Theatre
1300 Bulverde Road
Bulverde, Texas
OFFICE HOURS OF OPERATION Monday through Friday 9AM to 4PM
Extended office hours during show
Thursday through Saturday Dinner 6:30PM Performance 8PM
Sunday Matinee Lunch 1PM Performance 2:30PM
Note: July SUNDAY MATINEE, DESSERT ONLY,
doors open at 3:30 PM, Performance at 4 PM
TICKET PRICES $18 for adults $15 for military & seniors (age 62+) $10 for students